Diving in Tasmania
Most people don't think of Tasmania as being a popular dive destination but after a few dives off the island you'll find that there are some really special things to discover such as interesting creatures, cool wrecks and fabulous kelp forests.
Since it's a big island, it's best to know where you're going before you turn up. There are dives for all certification levels and it's possible to do your courses here as well. Explore interesting caves, get up close to playful seals, hunt for the elusive weedy dragon, find a seahorse or two and see if you can spot the critically endangered Spotted Handfish, only found in these waters.
If you've never experienced kelp forests then you're in for a treat. To dive this unique environment has been likened to flying through a rainforest. Diamond Island and Fortesque Bay are the best sites and with the amazing visibility you'll be able to maybe spot a Weedy Sea Dragon, box fish, octopus or a skate.
Wreck divers will enjoy the SS Nord but deep certification is required as it lies at 42 metres. Waterfall Bay Caves and Canyons is famous for its huge sea caves and only experienced divers with excellent buoyancy may attempt this dive. Hippolyte Rock is the place to go for the seals, an amazing experience to get so close to these fascinating creatures.
If you can deal with the cold water and sometimes limited visibility then you'll be rewarded for your effort and take away some fabulous memories of your diving in Tasmania .
(By Kelly Luckman)
Travel to Tasmania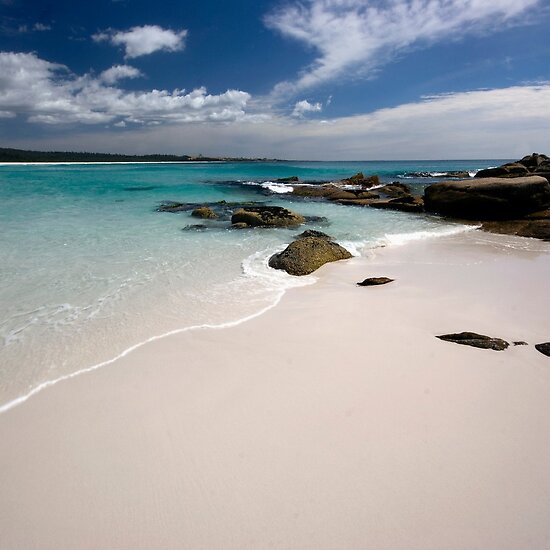 Tasmania is an island state located 240km off the southern coast of Australia and it is home to some of the most breathtaking landscapes and scenery in the country. Affectionately known as 'Tassie' by the locals, anyone visiting the island will be dazzled by its unspoilt beauty and excited by the choice of activities, food and wine on offer. It is just over 64,000 km2 in area and separated from the mainland by the Bass Strait .
There are no direct international flights to Tasmania so you will have to fly to mainland Australia first then catch a domestic or regional flight from there. Sydney, Melbourne, Brisbane and Adelaide all have flights to the capital Hobart and other towns such as Launceston and Davenport. There are also ferries to Davenport from Melbourne. Hiring a car is the easiest way to see the island.
There is a wide selection of accommodation on offer. From dorm beds starting at $25 a night, simple hotel rooms from $75 to 5 star resorts starting from $170. There are small beachside cottages, riverfront villas and cheap camping sites in the national parks. For a special stay, the heritage listed bed and breakfasts are amazing.
Tasmania is the perfect place to get back to nature and most activities here revolve around that. A must see is Port Arthur Historical Site, which is the most preserved convict site in Australia and taking a guided tour is the best way to learn all about the history of place. Swim in the crystal waters of the Bay of Fire , if you can handle the chilly water, or relax on the white sand and enjoy the stunning scenery. The Cataract Gorge Reserve has some fabulous walks and a chairlift ride across the rivers is a cool experience.
Try your hand as some trout fishing or look for some of the local rare and endangered species such as the infamous Tasmanian Devil, the strange Platypus, Sugar Gliders cruising in the trees, the Eastern Quoll , Forester Kangaroo or spiky little Echidna. Bicycle tours are very popular around the island, as is a kayak trip down one of the many rivers or take an off road 4WD experience to go deep into the country. There is so much to explore that you'll need a good couple of weeks to take it all in.
The seafood is fresh and delicious and you'll find many a fine restaurant to cook up a feast for you. Tasmania is famous for its wine and beer so head to the wineries of the Huon Valley or Cascade and Boags breweries to taste some of the best beverages in Australia .
You'll be delighted with your trip to Tasmania but be sure to take a jacket with you as it can be very cold in the winter months and the wind is sometimes relentless.
(By Kelly Luckman)