Diving in Nilandhe Atoll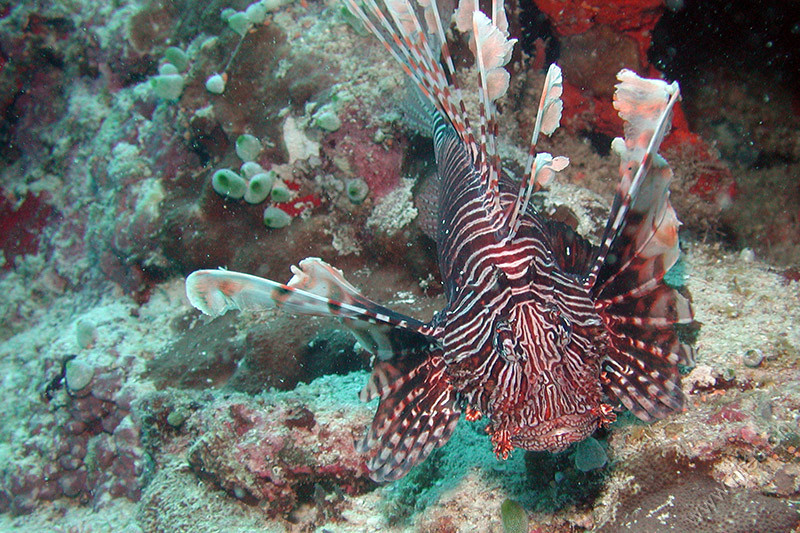 The reefs in Faafu Atoll or North Nilandhoo Atoll have recently been discovered for diving. A great deal of exciting unspoiled dive locations awaits you here at Faafu Atoll, with profuse marine species and beautiful coral formations. To the northeast edge of the atoll offers great diving sites.
In North Nilandhe Filtheyo Kandu is a must, but probably the most famous dive site is Jumping Jack, that gets the name because crossing the Kandu there are 7 small thilas splitting the current, and creating a perfect place for sharks and eagle rays.
Dhaalu Atoll, or south Nilandhe, has been known for offering exciting dive spots. Two resorts in the atoll are placed in the northeast edge. The most important feature of diving here is that you will find turtles in large numbers while diving from any part of the atoll.
Probably the most famous dive site is Fushi Kandu, which is a protected marine area with five thilas in the middle of the kandu and a perfect place for spotting schools of eagle rays.
Wreck diving has been considered to offers exciting and adventurous diving to earnest divers. These wreck diving sites with historical background are not the only interest in the areas, its variety in aquatic life offers a plus to divers in this region.
Kudahuvadhoo Island has two exotic wreck diving sites- Liffey and Utheemu 1. Liffey sunk in 1879, and Utheemu 1 in 1960. They are home to various colorful fishes and invertebrates. Macro Spot subjects to no water current is an idyllic place for novices with a depth range of 3-12 m.
Kermitt Corner, Thibisa Far Garden and Velavaru Kandu are for medium and advanced divers. Napoleon wrasse, turtles, mantas, gray reef sharks and tunas can be found in large numbers.
Nilandhoo Atoll has various unspoilt diving sites, which needed to be discovered.
Travel to Nilandhe Atoll
Nilandhe is divided in two natural atolls: Faafu Atoll in the North, and Dhaalu Atoll in the south.
Faafu Atoll also known as North Nilandhoo Atoll is located to the south of Dhaalu Atoll. Set in between 3° 20' N and 3° 03' N latitude, Faafu Atoll in Maldives has been measured as 30 km long and 27 km wide. With a total of about 23 islands, the atoll has 5 inhabited islands with one beach resort. Nilandhoo is the capital island of the atoll.
The archeological research in the capital island tells about the history of the land. Hindu temples were excavated by Thor Heyerdahl, which proves the fact that the island was once the place of Hindu worship.
Dhaalu Atoll or South Nilandhoo Atoll located 150 km from the tourism hub of Maldives, Male, is 38 km long and 23 km wide with several dives sites. The atoll comprises of 8 inhabited isles, two beautiful tropical paradise resorts and many deserted isles. With a total number of 46 isles, Dhaalu Atoll is just 5 km south of Faafu Atoll. Kudahuvadhoo Island is the capital island of the atoll, located to the southern edge of Dhaalu Atoll.
The atoll can easily be access by seaplane or speedboat. Various resorts in Maldives take tourists to the various unspoiled diving locations in Maldives, which are less crowded to provide ultimate diving enjoyment.
Nilandhe Atoll

by warenski

Hermit Crab

by warenski

Nilandhe Atoll

by warenski