Diving in Manila

Manila is the capital of the Philippines. It is actually a part on metro Manila which consist on 17 cities with a population of over 10 million people. The city is a mix of the old and new buildings. Some centuries old. Metropolitan Manila is the country's economic, cultural, educational, and industrial center. Shopping and night life is everywhere here. There small markets and boutiques to giant malls. In addition there are countless bars, restaurants, discos, Karaoke lounges, piano bars and café's to visit.
A few must sees would include The walled city of Intramuros, Manila Ocean Park and Malacañang Palace, the official residence of the president of Philippines. If the traffic and large crowds are not to your liking you can go north to northwards to explore the highlands.
Manila offers a perfect hub to reach all around Luzon, and neighbouring islands. If its beaches you want then head south to Mindoro. Whatever your taste you will likely find plenty to do here.
Travel to Manila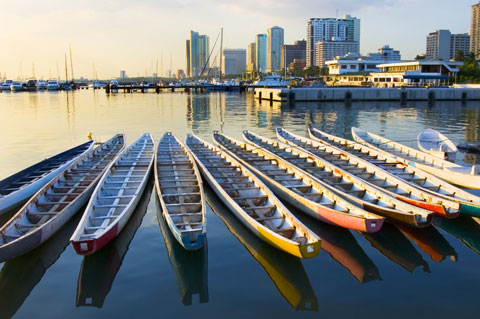 It's a pity that Manila is often disparaged, as there's much here to like. For one, all the adjectives often used to describe the Philippines - jovial, laid back, casual, corrupt, shambolic, earnest and more are on display here more than anywhere else in the country. It's a truly teeming metropolis that gets bigger each day, both in population, with people pouring in from the hinterlands, and size, as new developments in all directions swallow up villages and rice fields.

Manila can be a very discombobulated place, for it is really just a collection of towns with no definable centre. The walled Intramuros area was the traditional centre of Manila, but was mostly wiped out in WWII and has never recovered. Binondo, Quiapo, Ermita and Malate have never been more than a supporting cast for a star that doesn't exist. Still, you may well find lots of fun in Ermita and Malate, while Binondo and Quiapo have a certain raw energy and unique markets. And Intramuros is a good place to explore, just to find the bones of its past.

Rather than seeing Manila as an amorphous mass, focus instead on enjoying its individual areas, and you will start to get a feel for the greater Manila, which really is a sum of its parts.
MDA Logo

by Manila Dive Academy