Diving in Apo Reef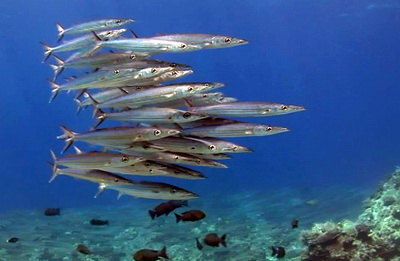 Apo Reef is a series of coral reefs encompassing 34 square kilometers within the waters of Occidental Mindoro in the Philippines. It is the world's second-largest contiguous coral reef system and the largest in the country. The reef and its surrounding waters are administered as a National Park as part of the Apo Reef Natural Park project.
Apo Reef can be found around 33 kilometers west off of the mid-western coast of the Philippine island of Mindoro. Two separate coral reefs make up the atoll-reef system. The two reefs are separated by a 30 meter-deep channel between them. Several environments can be found within the reef's boundaries. Aside from coral reefs, seagrass meadows, beds of macroalgae and mangrove stands are present on and around the reef proper.
Diving around Apo reef you have a good chance to see sharks and other pelagic fish and turtles. The reef is famous for its marine life and drop-offs, which are mostly vertical walls down to 30 - 80 meter. Most of the diving is done on the northern wall of Apo reef, where there are quite a lot of currents and gorgonians and other sea fans grow on the wall. This place is great for pelagics. On the east, at Shark ridge, there is a good chance to see blacktip and whitetip reef sharks and sometimes even Mantas. On the southeast there is a wall, Binangaan, and around Apo island there are more interesting dive sites. There is also an underwater pinnacle that almost reaches the surface called Hunter's rock which lies about 20 km west of Apo Reef. This is a great place for sea snakes. I heard that during the mating season (June through July) literally thousands of snakes appear here. More to the north there is a small reef, Merope reef.
Apo reef is often reached by liveaboards from Busuanga and Coron, Palawan.
Vie from Apo Reef lighthouse

diveunda.com

by Sablayan Divers